Update on Global Food Commodities
January 20, 2012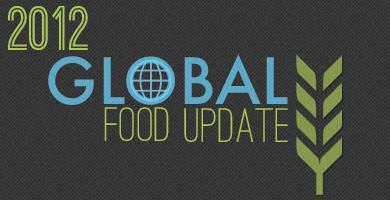 Summary
Corn, soybeans, rice and wheat are the most important food staples consumed in the world. We monitor these commodities because market fluctuations can lead to domestic unrest in import-reliant countries. Below is an assessment of these vital commodities.
Analysis
Most countries have domestic agricultural industries. However, the majority of these countries do not produce more than what their populations can consume. Only a handful of countries are able to export significant quantities of key food staples to countries that cannot meet their consumption needs or experience temporary setbacks in their agricultural sectors.
Output from exporting countries is an important geopolitical issue. Increased demand for global food supplies can cause localized shortages and price spikes. Food shortages and price increases, in turn, can lead to political turmoil and social unrest in countries whose populations depend on these imports for survival.
The most important staple crops consumed by populations around the world are corn, rice and wheat. Soybeans have also become an important alternative source of protein, particularly in Asian diets. Corn and soybean exports are largely dominated by states in the Western Hemisphere, while global wheat supplies are primarily grown by states in the Northern Hemisphere. Asian states account for the majority of all globally traded rice, but China, the world's largest producer of rice, consumes almost all of the rice it produces.
The following breaks down the current status of each of the four major staple crops.
Production forecasts
are drawn primarily from the U.S. Department of Agriculture's Foreign Agriculture Service estimates.
Corn
The United States, Brazil, Argentina and Ukraine account for more than 80 percent of global corn exports. While some 90 countries rank among the world's corn importers, Japan, Mexico, South Korea and Egypt are the most import-dependent nations, purchasing more than 40 percent of all globally traded corn.
The status of the corn market depends on weather conditions in the four major exporting countries. For the United States and Ukraine, the fall corn harvest has already occurred. While U.S. production fell by only 1 percent, the country's total exports are expected to shrink by 10 percent. Ukraine, however, nearly doubled production and more than doubled exports as a result of a record-breaking harvest.
For Brazil and northern Argentina, the period from December to February is key. It is during these summer months that corn goes through its silking and filling stages. A severe drought is currently affecting the region, and the extent to which the corn crop will be affected is not yet clear. Estimates of Argentina's production have fallen by 10 percent, but the country is still projected to produce more corn this season than in each of the previous two seasons. (The most recent drought in Argentina occurred in the 2008-2009 season, during which corn production fell by about 30 percent.) Although the ongoing drought also affects Brazil, Brazilian corn output is expected to increase by several percentage points compared to 2011.
Assuming current expectations hold, Argentine and Brazilian production will reach a combined output of 87 million metric tons. Since global corn production is expected to rise by several percentage points in the 2011-2012 season, Brazil and Argentina would have to lose nearly 50 percent of their expected corn crop for global production to fall below the 2010-2011 seasonal output.
Soybeans
The popularity of soybeans is growing. While less soy is produced than the other three food staples, soybean production has increased by nearly 150 percent in the past two decades, nearly twice the rate of corn production. The United States is a major producer and exporter of soybeans, but the fastest growth has occurred in Brazil. Indeed, there is growing domestic and foreign investment into the South American soybean industry, particularly in the Mercosur countries -- Brazil, Uruguay, Paraguay and Argentina.
The rising popularity of soy can be attributed to its being a relatively cheap source of protein for humans and livestock. Most soybeans are consumed in Asia's rapidly growing markets. China consumes more soy than any other nation. It imports more than 60 percent of globally traded soy, which represents more than 80 percent of China's total annual supply. To mitigate the risk posed by a sudden disruption in the soy trade, China stockpiles its soybeans for later consumption.
The drought that is affecting corn production in Brazil and Argentina is also expected to affect soybean production as the season progresses. Projected output for Argentina this season has dropped by nearly 3 percent, but the country still expects a slight increase in production compared to the previous season. Brazil will not be as lucky. The above-average rainfall seen in soybean-producing center-west states, such as Mato Grosso, will not further compensate for the drought in Parana state. As such, soybean production in Brazil will decrease by 2 percent. This will contribute to a 3 percent decline of global soybean production. Despite this decline, Brazil is expected to become the world's largest exporter of soybeans in the 2011-2012 season following an 8 percent dip in U.S. production.
Rice
The two largest rice producers by far are India and China. The two countries collectively produce more than half of the world's rice. Much of this rice is consumed domestically, however, and only India is a significant net exporter. Controlling nearly 80 percent of global rice exports, the top exporters of rice in order of rank are Thailand, Vietnam, India, Pakistan and the United States.
The rice market is temperamental, easily thrown off by too little or too much rainfall. The majority of rice produced in the world is consumed in the country of production; only about 7 percent of the world's rice production is available on global markets. Comparatively, 11 percent of corn produced is available on global markets, 20 percent of wheat and 37 percent of soy. This makes rice the most easily destabilized of the four key staples.
The 2011-2012 season has been more stable than the previous year, despite the flooding in Southeast Asia and the drought in China during 2011, and global production rose by just over 2 percent. With a 30 percent uptick in production over the previous year and an expected 17 percent increase in exports, Pakistan was the only top-five net exporter to have a noteworthy season.
Wheat
Wheat is widely produced by countries all over the world. However, more than 90 percent of the export market is dominated by ten entities: the United States, Australia, Russia, Canada, the European Union, Argentina, Kazakhstan, Ukraine, Turkey and Uruguay. China is by far the largest producer of wheat, accounting for about 17 percent of global production (only the states of the European Union collectively produce more). However, China is not a major player in the global market because it consumes almost all it produces. Because most wheat is grown in the Northern Hemisphere, July and August are critical for adequate rainfall.
The current season's total wheat production is estimated to be up 6 percent from the previous season. The only major decline was in the United States, which saw a 10 percent drop from the previous season. Both Kazakhstan and Russia have had stellar years for wheat. Russian production increased from the previous year by more than 30 percent. Kazakhstan had its highest production in 30 years, representing a 132 percent increase over the 2010-2011 season and an expected export increase of more than 50 percent.