Venezuela - making Brazil look good
In most countries a 5.4 per cent reduction in GDP would not be cause for celebration. But when
Brazil's statistics office
on Wednesday
revealed the depth of the economy's contraction in the first quarter from a year earlier, optimism swept across the markets, boosting the country's stocks and currency. Analysts had expected the economy to shrink 6 per cent year-on-year and contract 0.8 per cent from the previous quarter. In the event, it only slipped 0.3 per cent.
The better-than-expected result, though, was largely due to a government spending splurge – exactly what Brazil's interim president Michel Temer plans to rein in as he tackles the country's dire fiscal crisis.
On Thursday
, his government won a key victory in Congress when the lower house approved by a large majority a bill that will ease budget constraints by
reducing required spending
.
Mr Temer is betting that austerity measures will help pull the country out of its deepest recession on record, affording his interim government much-needed legitimacy in the process. While recent polls show as many as 70 per cent of Brazilians support the impeachment of President Dilma Rousseff, only 1 per cent would elect Mr Temer as president given the chance.
However, building credibility in the midst of the country's largest-ever corruption scandal has not been easy.
On Monday
Mr Temer
lost his second minister
to the graft investigation
in two weeks
. Fabiano Silveira, the anti-corruption minister no less, quit after leaked wiretaps suggested he had tried to derail the investigations.
Meanwhile, a parallel probe into corruption at the country's tax offices is threatening to wreak even more havoc in Latin America's biggest economy.
On Tuesday
, police
indicted the chief executive of Bradesco
, the country's second-largest non-state bank, as part of the so-called Zelotes Operation that has already implicated steelmaker Gerdau and Joseph Safra, Brazil's second-richest man.
However, Brazil's political and economic crises are nothing in comparison to what has been happening across its northern border in cash-strapped Venezuela. As Brazil's economy began heading for its current recession at the end of 2014, Venezuela was already suffering a deep contraction. While the IMF expects Brazil's economy to shrink 3.5 per cent this year, Venezuela's economy is forecast to contract 8 per cent. In Brazil, double-digit inflation has caused widespread concern yet Venezuelans may soon be facing four-digit inflation. Furthermore, while Brazil's airline industry has been hit by the country's recession and weak currency, at least there are still flights out of the country. Over the weekend, Lufthansa
halted its Venezuelan operations
, cancelling the only flight between Germany and the Latin American country.
Latam Airlines
then followed.
Before decrying their 'undemocratic' government and financial suffering, dissatisfied Brazilians might also spare a thought for their poor neighbours.
Quote of the week
"Given its exceptional depth, breadth, and duration, the ongoing cyclical contraction of real activity [has] acquired some of the characteristics of an economic depression" – Alberto Ramos, economist at Goldman Sachs, on Brazil
Chartwatch
Distribution of the Brazilian population by socioeconomic class from
EM Squared
.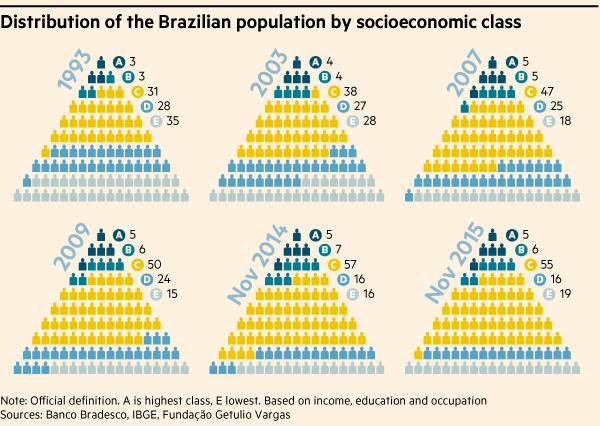 FT
LatAm Viva
features commentary by the FT's Latin America team and stories from
across the FT
.
Forward this email to friends and colleagues, who can
sign up here
. Send your feedback to