Brazil's Pactual and Chile broker in deal talks
Brazil's BTG Pactual is in talks to merge with Chilean brokerage Celfín Capital to create Latin America's largest investment bank, its boldest move yet to consolidate its position in the region and become a global force.
Pactual, run by young billionaire André Esteves, has been
expanding aggressively
since it was bought back from Switzerland's
UBS
in 2009, with analysts betting the bank could soon turn its attention to targets in Europe or the US.
The proposed deal with Celfín, announced on Wednesday, would bring together more than $70bn in assets under management and help Pactual conquer the Latin American market, which has become a hot spot for investment and cross-border deals.
The terms of the merger were not announced but the deal is expected to be completed in the second half of this year, Juan Andrés Camus, president of Celfín Capital, told the Financial Times.
"It makes a lot of sense. We all need to have regional cover and size to be able to compete with international banks."
Pactual "visited us some time ago. We have been talking about benefits and costs and now we have agreed to start more serious negotiations," said Mr Camus. He declined to discuss financial details.
Celfín is Chile's biggest brokerage and has operations in Peru and Colombia. Although the deal was announced as a "merger", the terms are more likely to resemble those of an acquisition, given that Pactual dwarfs Celfín with more than $64.5bn in assets under management, analysts said.
The two groups are initially expected to maintain their respective brands.
"Pactual just keeps growing and growing ... it could end up being a global player of the emerging markets," said Luis Miguel Santacreu, an analyst at Austin Asis, a banking sector consultancy in São Paulo.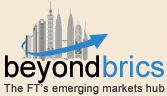 News and comment from emerging economies, headed by Brazil, Russia, India and China
Last week, Pactual also took the first step towards a possible initial public offering by filing a request with regulators to become a publicly listed company.
"With this latest deal, Pactual will be able to better cover capital markets in the region," said Mr Santacreu, adding that the bank may now look to opportunities in Brazilian retail banking or potential acquisitions in the US.
Latin America's rapid economic growth and a surge of interest from retail investors and sovereign wealth funds, particularly those in Asia, have made the region an attractive target for local and foreign banks. M&A deal activity in Brazil surged 167 per cent in the second quarter from the previous year, according to IntraLinks, a secure data provider.