Brazil's Olympic challenge
Bomb warnings; ISIS; suspicious packages; anti-terror operations; security drills – living in Brazil for the past week has felt a lot like being back in Europe or the US. With only two weeks to go until Rio de Janeiro becomes the first South American city to host the Olympic Games, Brazil has rushed to convince the world that it is taking the threat of a terrorist attack seriously.
On Thursday
,
Brazilian police arrested ten people
allegedly linked to ISIS in the country's first anti-terror operation since the introduction of the terrorism law earlier this year. The suspects, all of them Brazilian, are believed to have participated in an ISIS initiation ceremony over the internet, exchanged ISIS execution videos and applauded recent terrorist attacks in Orlando and France. They also tried to acquire an AK-47 assault rifle from an arms dealer in Paraguay and had discussed martial arts and firearms training, according to Brazilian authorities.
Meanwhile, security forces have carried out drills in the metro and near sports facilities over the past few days, as well as stepping up checks at airports.
On Tuesday
night, bomb squads were also sent to São Paulo's main Paulista Avenue to investigate a suitcase that had been abandoned close to the French Consulate.
However, the authorities' efforts and
Thursday's
operation in particular– while applauded abroad – were largely met with incredulity and even ridicule among Brazilians. In spite of the near-civil war that rages in Brazil's favelas between drug gangs and police, Brazilians pride themselves on being a pacifist nation. Terrorism is still largely seen as something that happens to other people, somewhere else.
In fact, one of the main questions Brazilians were asking after
Thursday's
police operation was not whether the threat was real but how police had managed to intercept the suspects' messages, particularly those sent over WhatsApp.
On Tuesday
a judge
shut down the hugely popular messaging app
across the whole country for the third time
in eight months
in an apparent act of retaliation to punish WhatsApp for not cooperating on common criminal investigations. Judges say WhatsApp has refused to reveal the contents of messages sent over its app, which they need to convict some of the country's most dangerous drug traffickers. However, Facebook-owned WhatsApp, which is used by about 100m people in Brazil, has always said that it has no way of seeing the contents of users' messages since they are encrypted. The company could not help even if it wanted to, it says.
However,
Thursday's
police operation left many scratching their heads. "The courts are always blocking WhatsApp because it does not provide this information but to catch these 'terrorists' the police intercepted everything without any problems…huh?!" tweeted one Brazilian. Others even suggested that it was ABIN, Brazil's intelligence agency, that was behind the recent WhatsApp bans in their fight against terrorism.
While analysts speculated that the police may have managed to clone the numbers of the suspects or somehow bugged their phones, the police have kept schtum about their methods.
Quote of the week
"I still believe that domestic crime is a more concerning issue than the question of terrorism" - Alexandre de Moraes, Brazil's justice minister.
Chartwatch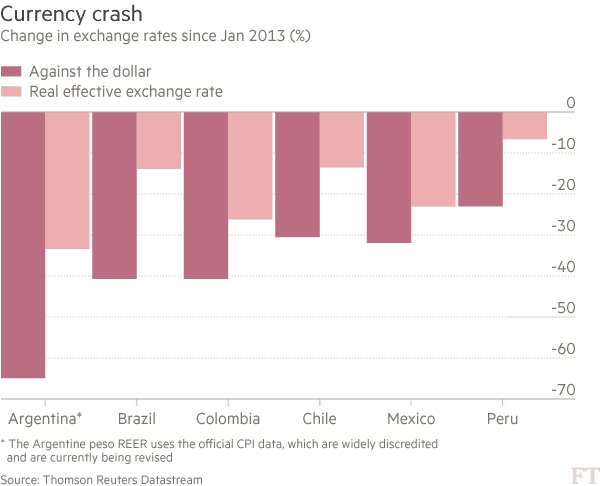 Other views