Venezuela's socialist president Nicolás Maduro on Wednesday announced a revamp of the country's complex
foreign exchange system
, while also setting the stage to raise the world's cheapest petrol prices to try to oxygenate an economy in recession hit by
plunging crude oil prices
.
Calling a unified foreign exchange system something "unviable" during his annual address to parliament, Mr Maduro said he was sticking to a three-tier system while bolstering the main rate of 6.3 bolívares to the US dollar for food and medicine.
Yet he added that the current two complimentary mechanisms, trading at 12 and 50 bolívares per dollar respectively, would be converged for non-essential imports. Without providing many details, he said the government would then establish a new third system that would offer dollars via "brokerages".
"This exchange system is a transitory system to attend to the country's development needs," he said.
The possibility of weaker official exchange rates in the cash-strapped country prompted comments by observers about this being another stealth devaluation, as officials have been tinkering with foreign currency controls since the death of former president
Hugo Chávez
in March 2013.
Many economists believe those controls are at the heart of the country's economic woes, which include widespread
shortages of basic goods
, and say an outright devaluation is needed to boost the value of Venezuela's dollar-denominated oil receipts to narrow a fiscal deficit estimated at 20 per cent of gross domestic product.
"Amid such a dire economic situation, these measures are quite timid," said Leonardo Vera, an economist at the Central University of Venezuela. "He didn't even say how we are going to face the drop in crude revenues."
Oil accounts for 96 per cent of Venezuela's foreign earnings.
Since Mr Maduro took office in April 2013, inflation has leapt to 64 per cent amid policy torpor. Even with the economy forecast by Alejandro Werner of the IMF to
contract 7 per cent
this year, the former bus driver turned leader has been wary of implementing hard austerity adjustments.
Instead, the increasingly isolated president blames the problems of the energy-rich nation on an attempted "economic war" by rightwing foes, whom he accuses of trying to destabilise the country by hoarding basic goods such as toilet paper and nappies to keep them out of impoverished citizens' hands.
In depth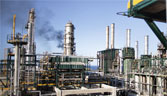 Latest news and comment on the global economic and political consequences of tumbling oil prices
Further reading
However, Mr Maduro did say the time had come to consider removing a gasoline subsidy, estimated to cost $12bn a year. "If you want, crucify me, kill me," he said, adding: "The price is a distortion."
Observers called this a litmus test of how far the embattled president is prepared to go to try to restore economic rationality to a country shaken by the halving of oil prices, which has exacerbated fears Caracas may be unable to make $11bn of bond payments due this year.
Although officials have vowed to pay bondholders, investors think Venezuela — which has the world's largest oil reserves — has been pushed close to the edge. Its bond yields have soared, with that on 10-year debt reaching 29.9 per cent on Wednesday, compared with 6.8 per cent for comparable Russian bonds.
Mr Maduro avoided cuts to social programmes, even though economists in Caracas say Venezuela needs to sell crude at a price above $120 a barrel to balance its budget.
The president said on Wednesday that Venezuela's oil basket had dropped to $38 per barrel, and that crude prices would not return to $100.
"We have less foreign currency," he said. "But God will provide."
Additional reporting by agencies