Santander vs BBVA – a tale of two LatAm loan markets
Spain's two leading lenders, Banco Santander and Banco Bilbao Vizcaya Argentaria, have long looked to Latin America for growth – and more recently to repair troubled balance sheets at home.
But while Santander has hitched its fortunes on Brazil — now its biggest market, accounting for 26 per cent of group profits last year — BBVA has focused on building up its operations in Mexico. Just last month it announced
plans to funnel $3.5bn into its Mexico business
over the next three years, and the country last year accounted for more than one-third of its global profits.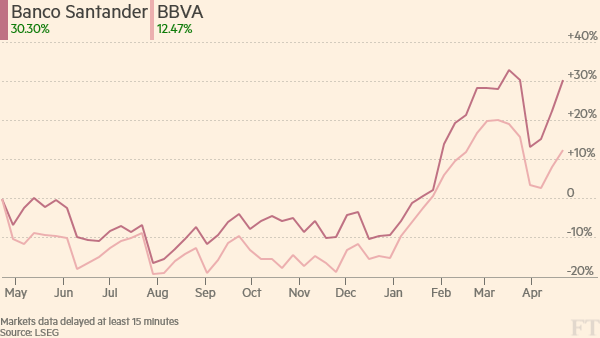 So who made the better choice?
Judging by the first quarter results released by the two banks last week and share price performance over the past year (BBVA is up 52 per cent while Santander has gained 27 per cent), the momentum appears to be with BBVA and Mexico, for now.
Indeed, Santander's prized Brazilian operation has come under pressure as a result of tougher competition and lower interest rates, which eat into the margins on its consumer loans.
Net profit for the first quarter
came in at €499m, a 22.3 per cent drop from Q1 2012.
"We knew there was some pressure there [in Brazil] but not as much as they reported," said Juan Pablo Lopez, a Madrid-based bank analyst at Banco Espirito Santo.
Particularly worrying is the
rise of bad loans in Brazil – something beyondbrics has reported before
. Although lending rose 5 per cent, the ratio of non-performing loans to total loan book hit 6.9 per cent at the end of March, or 114 basis points more than a year ago and higher than the group NPL ratio of 4.76 per cent. As a result of the rising loan delinquencies, Santander has had to put more money aside to cover losses on overdue loans. Provisions for bad loans rose 12.4 per cent in Q1 2013 over Q1 2012.
But even as all signs seem to suggest that the heady days of Brazil's credit boom are coming to an end as the economy grounds to a halt, the party appears to be just getting started in Mexico's loan market.
Mexico's new found economic dynamism — anchored by the country's trade ties with a recovering US economy on one hand and moves by President Enrique Peña Nieto to push through much needed structural reforms on the other — has boosted investor confidence in the country over the past year.
This optimism is being reflected in the banking sector. Banorte, Mexico's third-biggest lender and the largest domestic bank, last week reported
a 27 per cent rise in Q1 profits.
BBVA's business in Mexico
is also proving to be similarly resilient, with Q1 net profit up 1.2 per cent at €435m. Lending increased 6.8 per cent to €40.2bn. However, its NPL ratio at the end of March stood at 3.7 per cent, down from 3.8 per cent the same period last year. As BBVA said:
At the end of the first quarter of 2013, Mexico continues to show strong commercial performance. Lending continues to be driven mainly by the retail segment, while the most significant aspect as regards customer funds is the strong performance of low-cost deposits.
But with credit to the private sector in Mexico equal to only about 26 per cent of gross domestic product — and way below 60 per cent in the case of Brazil and close to 100 per cent in Chile — there is plenty to play for.
All this should offer some minor comfort for Santander, which to offset its Brazil woes does have a sizeable presence in Mexico — the country accounted for 12 per cent of group profits last year. With
Alfredo Sáenz, Santander's long standing chief executive standing down
on Monday, perhaps now would be a good time for his successor to rethink the bank's LatAm strategy?